For free and confidential legal advice about this topic, please contact us here.
Do I have to buy/get car insurance?
Yes. In Victoria, it's against the law to drive a car or motorbike unless you have paid for compulsory third party insurance (CTP insurance).   Because your CTP insurance is part of your registration, you can't register your car without paying for the CTP insurance. If you are driving unregistered and without CTP insurance, you could be fined over $777.30!   Don't risk it – make sure your car is registered and has CTP insurance.
Other types of insurance are optional, like third party property insurance and comprehensive insurance are optional. This means you don't have to get them but it's still a good idea.  
Check out this video to explain the different types of insurance, or read on for more information:

What is CTP insurance?
Compulsory third party insurance (CTP) covers you as the driver or owner of a car for any claims if someone gets injured.
This means that if you injure another driver or a pedestrian whilst driving, you do not have to pay the compensation owed to the injured person. This amount will be paid by the insurance company. However, CTP insurance does not cover any damage to property, for example damage that you cause to another car or something in it.  
How do I get CTP insurance?
When you register your car with Vicroads, part of the cost is the Transport Accident Charge (TAC charge or TAC Premium). This is your Compulsory Third Party (CTP) insurance. For more information about CTP insurance in Victoria, go to https://www.vicroads.vic.gov.au/registration/registration-fees/about-the-transport-accident-commision-tac-charge
Do I have to pay for any other insurance apart from CTP?
Getting insurance apart from CTP is optional, but it's recommended otherwise you could be in for a big bill if you damage someone else's car and they ask you to pay for it.  Remember, CTP insurance only covers you for injuries that you cause to others, not for damage to their car or belongings.
There are a couple of types of optional insurance you can get: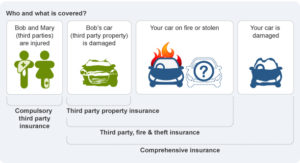 Reproduced with permission of ASIC; Source ASIC's MoneySmart website, moneysmart.gov.au, 2 October 2014
Third party property insurance
Third party property insurance covers damage to other people's car only.   That means the insurer will only pay the cost of repairs for the other person's car but not the cost of repairing your car.    It's a good idea to have at least have this type of insurance (in addition to compulsory third party insurance) to avoid paying huge amounts of compensation if you are involved in an accident and it is your fault.
However, if you only have third party property damage insurance, in the event of an accident, there is a chance you can still claim compensation for damage to your own property from the other person. It will depend on the insurance policy the other party has and whether the insurer thinks the accident was your fault.  If you've had an accident and want more information about repairing damage to your car, check out our Property damage page.   
Comprehensive insurance
Comprehensive insurance covers damage to your car and someone else's car.
There are many different types of comprehensive car insurance policies. Some policies will also cover fire and theft. It's a good idea to research a variety of policies and compare prices and benefits before you make up your mind.  For more information on claiming insurance if you have an accident, check out our Property damage page.   
I've bought insurance but want to cancel it – what are my options?
If you've just signed up or renewed your insurance, you can cancel it within 14 days (some insurers have longer periods).  You should call your insurance company as soon as possible to cancel it if you are within the 14 days period).   If you cancel your CTP insurance, your registration will be cancelled until you get new CTP insurance.  This means you won't be able to drive your car.
If it's after the cooling off period (more than 14 days), most insurance companies will refund the unused portion of your insurance premium, minus any administration fees and government surcharges.  You should call your insurance company to tell them you would like to cancel.
If you want some specific advice about cancelling your insurance policy, please contact us here.
I've been in an accident and want to claim on insurance – what do I do?
If you have been in an accident, please check out our Property damage page for more information.

I've been injured in an accident and want to get compensation for my injuries…
Please see our page on accidents for more information.
If you're under 25 and you have a question about insurance that we haven't answered here, please ask us a question here and we can give you some free information and advice.
Date Published
August 3, 2018
Last Updated
August 24, 2023
References
Corporations Act 2001 (Cth)
Road Safety Act 1986 (Vic)
Road Safety (General) Regulations 2009 (Vic)
Transport Accident Act 1986 (Vic)